Easily sell your photos online and earn money. Hi everyone there! Hope you are doing well. I am here to share how you can change your WordPress Website to a photo selling website and you can earn money by uploading and selling the beautiful images you have clicked. So, let's start right away.
Installing WordPress
You need to have a WordPress Blog / Website installed at your server. Once its installed you can login and give a beautiful name to your WordPress website. Select a theme of your choice and that's all. You have your WordPress installed. The version I have installed yet is Version 5.2.2. This version may be changed when you read this blog. This doesn't make a difference. Here is the screenshot of how WordPress initial installation looks like.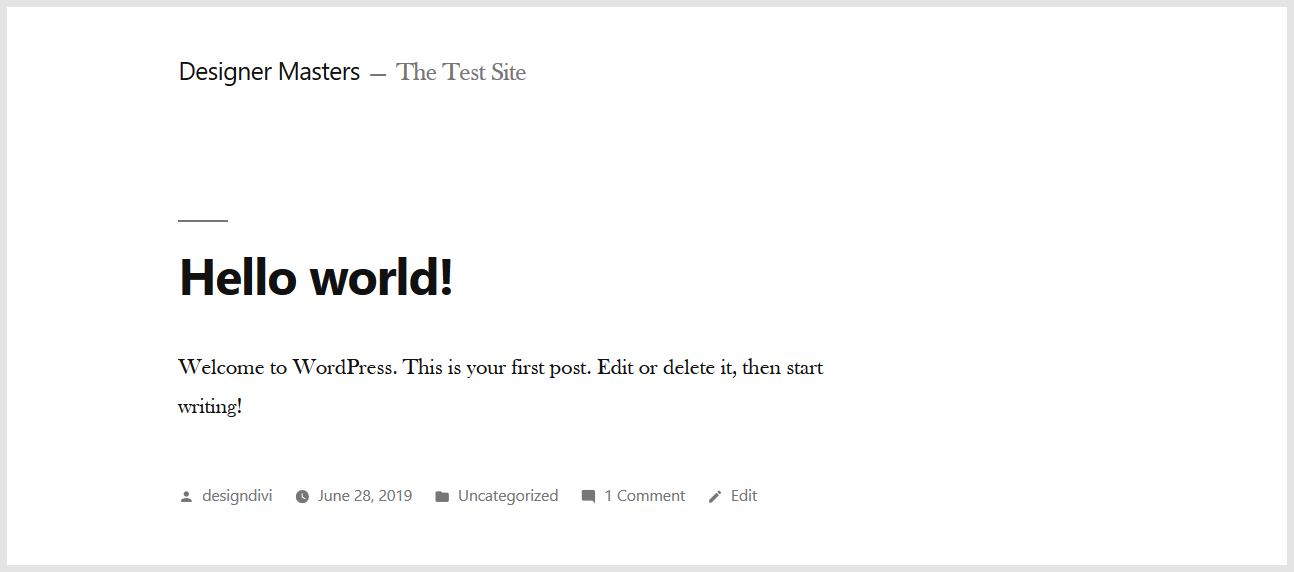 Selecting Theme
Now if you have installed WordPress, your second step is to choose a beautiful / stylish or trendy theme according to your taste. There are lots and lots of free themes available in WordPress that you can use. Let's select a theme.
Go to Appearance > Themes > Add New. You will see a list of themes from WordPress Theme Directory.
You can select any as per your choice. But i will keep the simple one which is already installed i.e. Twenty Nineteen.
Installing Plugin For Photos
Now there are many plugins available in WordPress for selling purposes. You will find a variety including free and paid plugins. But i will use Sunshine Photo Cart Plugin for this purpose. Go To Plugins > Add New. Type in search bar "Sunshine Photo Cart". You will see the plugin there. Click on Install Now and the Activate the plugin.

This free version is fully functional and has the following features:
Cart system for letting users choose photo, select product and add to cart for purchase
Accept offline payments (check) or online payments (PayPal)
Unlimited galleries, images and products!
No commissions!
Integrates directly into your theme automatically (or use one of our layouts)
Upload images via FTP or browser in WordPress admin
Galleries can be password protected, require email, require user account or be completely private for specified users
Gallery end dates – great for pressuring clients to buy and not wait forever without purchasing
Sub galleries – great for weddings or large events
Favorites – Let users select their favorites, view any user's favorites in the admin
Social sharing – Get friends and family to see photos, increase exposure and possible sales!
Watermarking – Automatically have a watermark added to all your images when uploaded to a gallery
Multiple shipping methods (Flat rate, local delivery, pickup)
Easy order management
Printable invoices
International ready – Works with all currencies and translated into German, French, Spanish, Dutch, Finnish, Portuguese, British, Norwegian.
Like features of this plugin? Click here to read full description.
Using The Sunshine Photo Cart Plugin
After installing the plugin, you will find these four new options on side menu of your WordPress Dashboard. First of all you will need to make some important settings to the plugin.
Making Important Settings
Go to Sunshine > Settings. In General tab select country, currency, tax, etc. From the second tab i.e. Pages, you will see that the plugin has already installed some pages according to your need.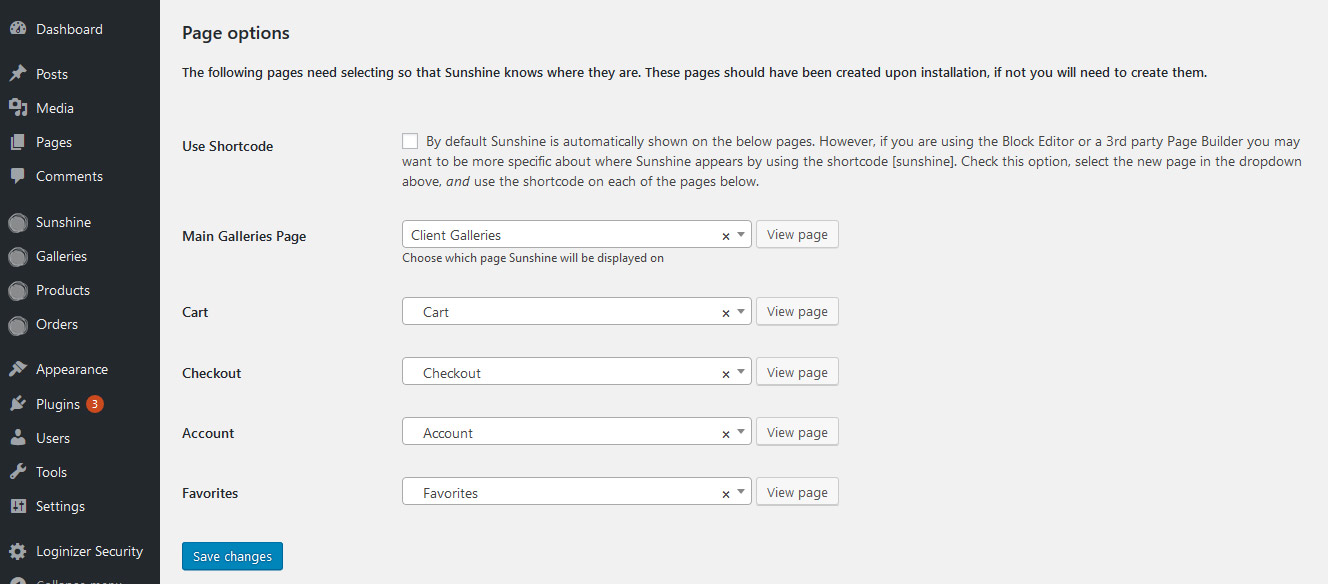 Under Galleries tab make settings and there is also the option to add watermark if you want. Just upload a PNG image from your system and select it as a watermark image. Enable Payment Method. From Shipping tab select at least one shipping method. Even you are charging nothing for it, you can keep the price as $0. Similarly, make other settings too like checkout, payment & design. From Design setting, i am selecting Sunshine default theme. But you can go for any other beautiful theme you prefer.
Adding Products and Price
Then go to Products > Product Categories. You can add as per your choice but i am creating categories according to image size.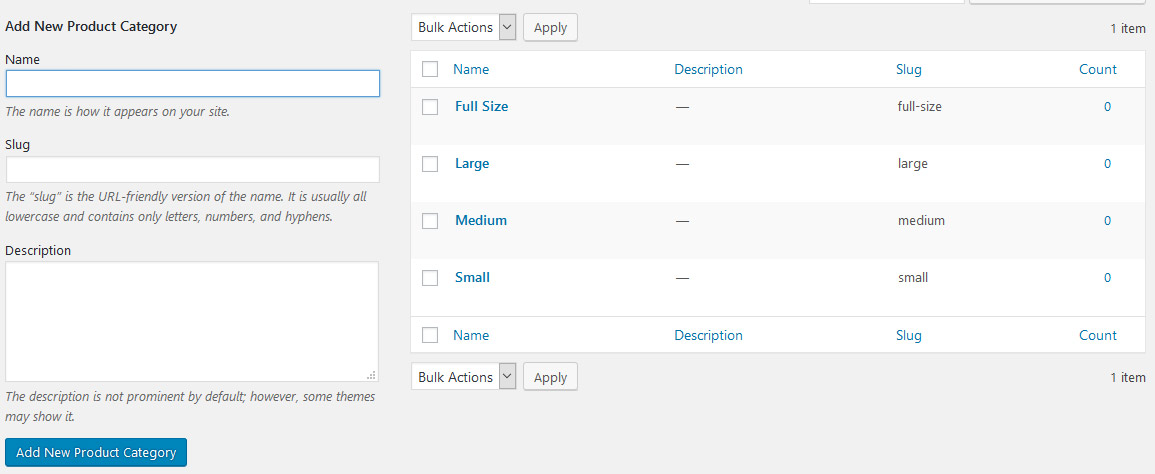 Then go to Add Products and here you can Add like Size : 300 x 300px. Then select category Small. Enter Price like $1. Then add new product and name it as Size : 600 x 600 px and rate it $2. Similarly add more products and you can have many products for a same category. This is how you will categorize photos on your website.

Creating Gallery
Go to Galleries > Add New. Add Title of Gallery. Give some description to the Gallery.

Now scroll down and you will find option to 'Select Files'. Click on the button and select pictures from your computer / laptop.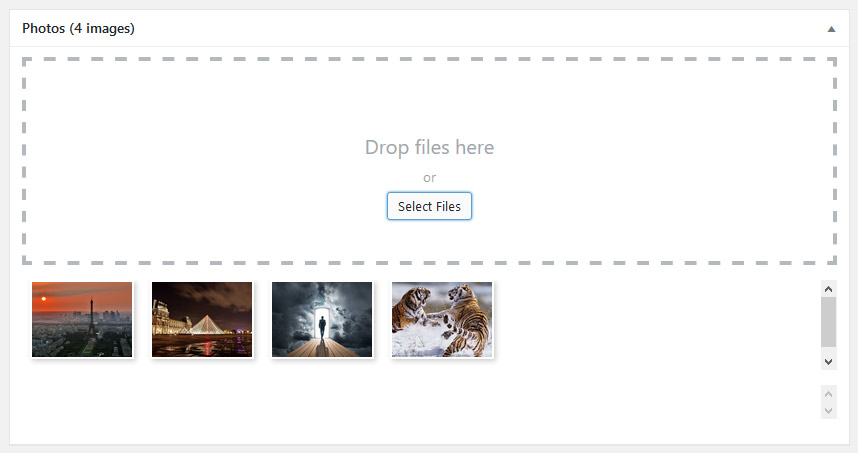 After adding images scroll down and you will get more options to make your gallery safe from unwanted users. If you want your images visible only to logged in users, you can select Access type to Registered and Logged In Users. Do not forget to enable Registration of users from settings option of WordPress.
Then click on Publish. You can view your gallery by clicking on the link or clicking on View Gallery. Your Gallery page will look something like this.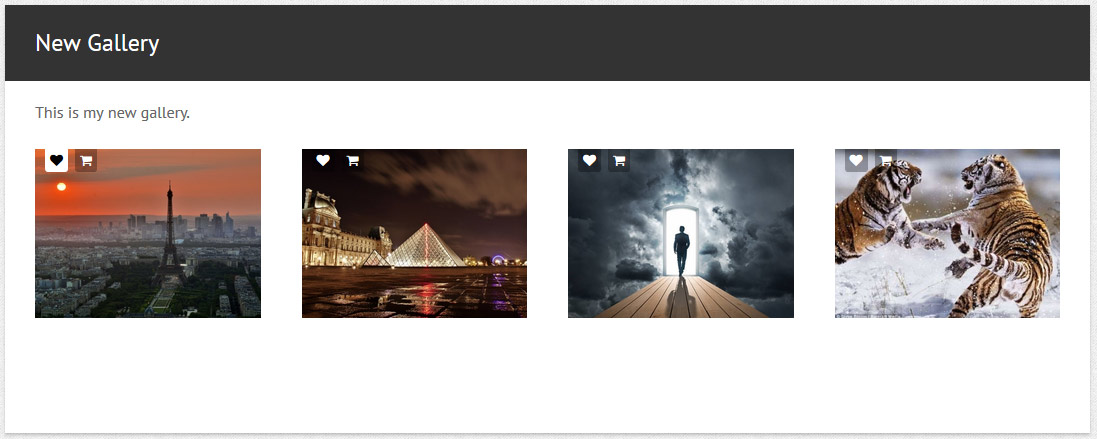 Click on the photo. Select resolution or category you want. And then click on Add To Cart button.
Select Shipping Address Enter your details. Select your payment method. And here you will be able to purchase your photo.
Let us know if you liked the post. That's the only way we can improve.