Reset WordPress database & files to a fresh WordPress installation rather than deleting all the installed plugins data, themes & content one by one. Yes! Most of us start working on WordPress and later realize that something is wrong now. Either we are not following what we wanted to do or we have chosen a wrong plugin or theme. May be the posts and pages we added are of no use. What do we do then?
We start deleting plugins and themes that are not of our use. As we cannot see the changes made by those themes and plugins made on the website, we think its cleaned now and we can start from the beginning. But this is really a bad idea. Similarly, if we delete posts and pages this will still consume space in database.
Disadvantage of deleting content & plugins
Well! if your website is old and running and have a lot of stuff in it then deleting plugins and themes is a good idea always. But if you are designing a new WordPress website and were making tests with plugins, then just deleting those plugins and starting again is not a good idea.
If you are making tests and suppose you have tested 4-5 plugins for the same purpose and now have shortlisted one of them. Then rather than deleting other plugins we should do a fresh installation and then install & activate the shortlisted plugin. Also there may be pages and posts added by that plugin.
The reason behind this is that when you are just deleting plugins and themes, the entries done by those plugins and themes are not deleted from database and your database is still loaded with all the tested data. This data is of no use but may corrupt your database anytime or make your website slower to load. So there are two ways to solve this issue.
Two Ways To Get Completely Fresh Installation
There are 2 easy ways to get a fresh, light and useless data-free installation :
By completely deleting WordPress installation from cpanel and installing it again.
By using a plugin to reset the WordPress installation to a fresh one from WordPress Dashboard.
Here in this post i will tell you about resetting WordPress to a fresh installation by using plugin.
I have a WordPress Website installed and is messy now as i am doing a lot of tests. Unwanted plugins are installed for test purposes and now will reset the WordPress database & files by using a plugin. Also i have number of posts and pages that i want to remove forever from my database.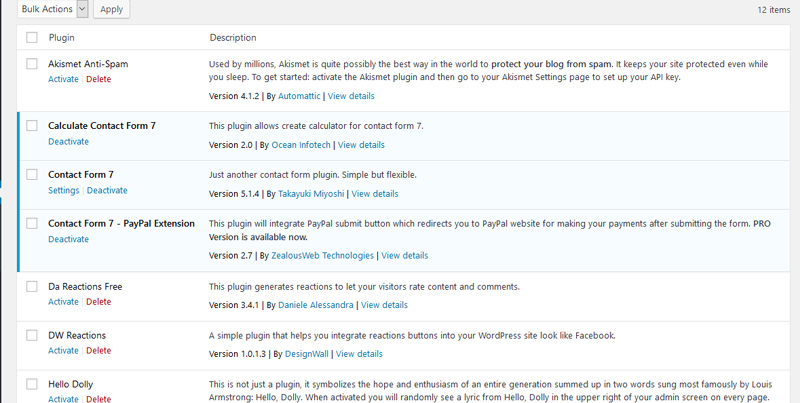 WordPress plugin we will be using
WP Reset – Best WordPress Reset Plugin : It deletes all customizations and content. WP Reset is fast and safe to use. It has multiple fail-safe mechanisms so you can never accidentally lose data.
Working with WP Reset Plugin
It is very easy to use this plugin. But still everything should be done carefully. Follow all the instructions given below to avoid any error.
Step 1 : Installing & activating the plugin
To reset WordPress database & files, go to admin panel/dashboard of your WordPress website. Now follow the path plugins > Add New. A page will open where you will see a list of plugins. Enter "WP Reset" in search option of the page.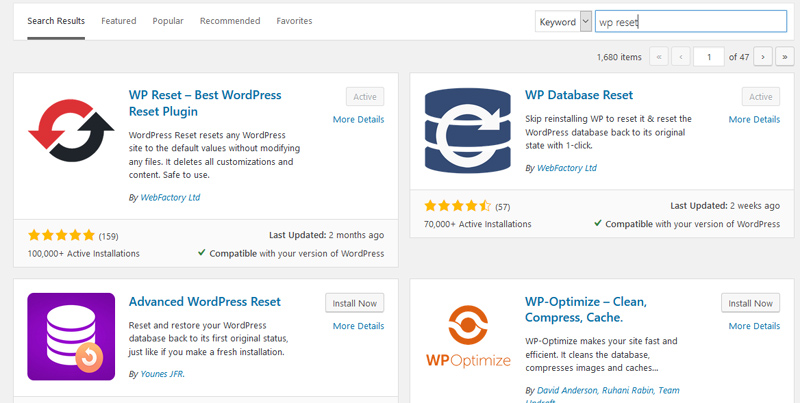 Now install & activate WP Reset – Best WordPress Reset Plugin. WP Reset plugin is now activated.
Step 2 : Working with the plugin
After installing and activating the plugin, go to tools > WP Reset in the left-hand-side menu of admin panel. You will see a page where you will have to select some options.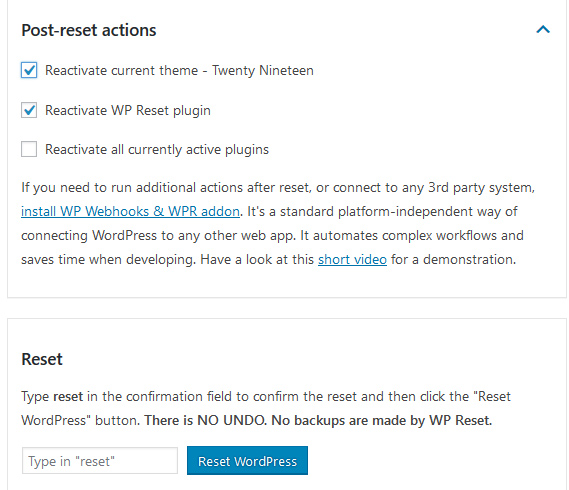 Select options according to your requirement. and type 'reset' in the textbox and click on Reset WordPress button. This will take a little time to reset your installation depending on the data you have. Once done, it will take you to the admin dashboard. You can check that all your data is deleted and you get a fresh WordPress installation.
Later you can delete plugins and theme from your WordPress installation. Now the plugins will have no data saved in your database.
Precautions to take while resetting WordPress database & files
Make sure that you do not need any of the data back. If you need then you wouldn't be able to once the Reset button is clicked.
It is advised to take backup of database first before using this plugin.
Note From The Author
I am Divyanshi, WordPress lover and PHP Developer. I tried my best to post this blog on how to accept Paypal Payment using Contact Form 7.
You can contact me in case you need any help or have any confusion by clicking here.

Divyanshi Gupta
Please, comment below if you have any better idea of doing this or want any other suggestion on this.
Let us know if you liked the post. That's the only way we can improve.