Automatic WordPress backup using UpdraftPlus plugin is must to do thing according to me. However, many plugins are available for such actions and also your cpanel allows you to take automatic backup of your website. But its great if you can set your WordPress backup on some server using Updraft plugin.
Need Of Automatic Backups for WordPress
Its highly recommended to set an automatic backup of your WordPress website as not doing so may make you regret in future.
Here are some of the reasons that will convince you to have an automatic backup of your website :
1. WordPress Update Failure :
WordPress is open source application and hence its developers continuously updating its feature to make it more easy to use and to improve its performance. However sometimes updating to a new version may harm some content of your website and may result in complete loss of your content. So in case you lost your data due to some updated content, you should have a backup to restore it back.
2. Incompatible cPanel Updates :
Changing of cPanel configurations like php version and database update may lead to breakdown of your website. You should always have a backup to get your website live back again.
3. Attacked By Hackers :
Hackers may ruin your data and your files. Sometimes they put links on your website that will take your website visitors to some advertisements and the hacker will earn money. Also they steal your information and can destroy your whole data. In such case its a headache and a back pain too to get your website back. But trust me, this time the task is the toughest. So you can have your website live again and working in the way you want if you have a clean backup of your website. Otherwise you are in a big trouble.
Why UpdraftPlus Plugin Is Preferred?
Updraft today is most trustable and highest ranked WordPress backup plugin. It has currently over 2 millions active installations. It reduces your time that you need for manual backups and also uploads your backup on a cloud server of your choice.
Video Source : https://wordpress.org/plugins/updraftplus
1. Integrates with multiple cloud servers :
UpdraftPlus gives the option to integrate with various cloud networks. The list contains DropBox, Google Drive, Google Cloud, Microsoft Azure, Amazon S3, etc. You can also send these backups via email and can also store in FTP.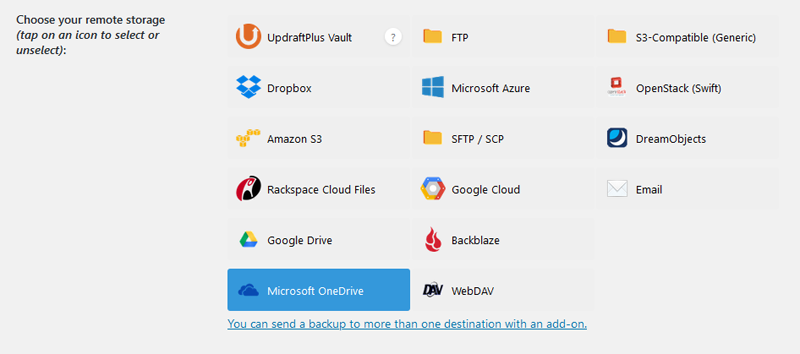 2. One time setup and all time service :
You can select which files you want in your backup or if you need a complete backup always. One can take manual backups also but in case you want a scheduled automatic backup, then this is the best choice. Hourly, daily, weekly, monthly scheduled backups can be set according to your requirement and rest all this plugin will do for you.


3. Free to use :
The best thing about the plugin is that IT's FREE. However UpdraftPlus Backup plugin also come with premium features but installation of its free version is enough for small business websites. Whatever i have mentioned in above two points is available in free version. So. no doubt that you are getting a lot with this free version and getting rid of tension of loosing any data of your website.

Automatic WordPress Backup Using UpdraftPlus – The Set Up
1. Installing UpdraftPlus :
Go to Plugins > Add New and then search for UpdraftPlus Backup/Restore. Click on Install Now and then activate the plugin.

2. Setting up the automatic backup of WordPress :
Now under settings option you will be able to see UpdraftPlus – Backup/Restore option. Click it and you will be taken to UpdraftPlus dashboard. Go to Settings tab. Set your options for 'Files backup schedule' , ' Database backup schedule'. after this select an option for 'Choose your remote storage'. For example i am selecting Google Drive option and then select if you want themes, plugins & uploads folder in backup.
After making all these settings, click on the 'SAVE CHANGES' button. A pop-up will open for remote storage authentication.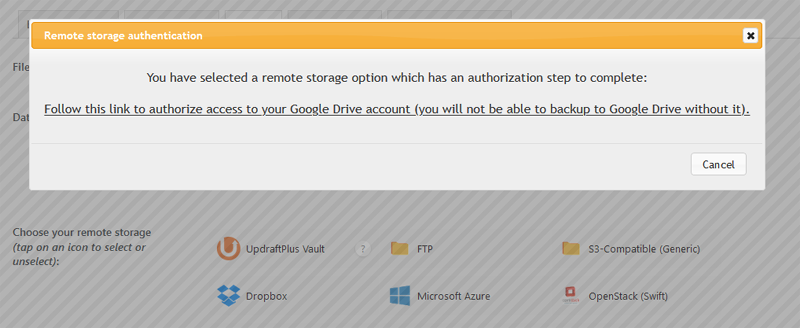 Click on the given link and you will be taken to Google account or the cloud server selected by you. Once it confirms that the account is related to you and if you agree to the privacy policy, connection will be set successfully. Make sure you have a folder in your Google Drive with name 'UpdraftPlus'. This folder will have all your backups.
Once integration is done, you will be taken back to your website with a successful message.
3. Taking your first backup :
Go to UpdraftPlus dashboard. Click on 'Backup / Restore' tab. You will find a button with label 'Backup Now'. Your backup will start and after completion you can check that your zip files are transferred to a remote server selected by you.

Next backups will be done automatically according to your settings. And you will be now tension free as your content is now safe and you are not going to loose it.
I am Divyanshi, WordPress lover and PHP Developer. I tried my best to explain why you should take backup of your website and why Updraft is the best option. If you still have any doubt, feel free to discuss.
You can contact me in case you need any help or have any confusion by clicking here.

Divyanshi Juneja
Please, comment below if you have any question relating the post or have any better plugin in your mind.
Let us know if you liked the post. That's the only way we can improve.